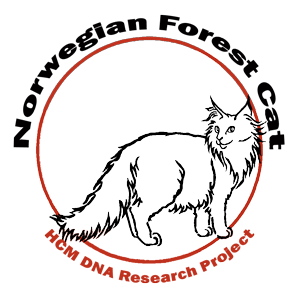 October 16, 2017 Highlights
See the DNA Research page for new updates
Making Donations to WINN for NFC Research
Who are the people that make up this group?
We are passionate about eliminating HCM (Hypertrophic Cardiomyopathy) in the Norwegian Forest Cat. We share our knowledge and experiences, screen our cats regularly and share the results publicly, organize HCM screening clinics, and donate our money to the DNA research fund.
A gene that causes HCM in the Maine Coon cat has been identified by Dr. Kittleson, Dr Meurs, and a team of researchers at the University of California, Davis; The Ohio State University; and the Baylor College of Medicine. Researchers have agreed to work with the Norwegian Forest Cat community to conduct studies with the objective of identifying genes that cause HCM in the Norwegian Forest Cat. To help fund this research, we rely on fundraisers and private donations through the Winn Feline Foundation. Of equal importance are blood sample submissions from cats qualifying for studies.
This website was created to educate breeders and fanciers about HCM and provide updates on the Norwegian Forest Cat HCM Research Project. HCM educational material is available in various languages. We encourage you to share this information with fellow breeders and fanciers around the world.
Our Mission Statement
To foster awareness and encourage screening for hypertrophic cardiomyopathy (HCM) in the Norwegian Forest Cat (NFO) and support research directed towards finding a DNA test for HCM in the Norwegian Forest Cat.
Our Goals
Increase awareness of HCM with access to current research and documentation

Promote HCM screening with the best means available (currently Echocardiogram)

Organize and conduct testing clinics

nationally and internationally, making tests

widely available at a reasonable cost

Provide a centralized data bank for online test documentation

Support development of DNA screening through fund raising, recruiting sponsors and fostering awareness
__________________________________________________________
Overview of Website Contents
What's New?
Look here for any updates made to the website.
DNA Research
An overview of our efforts and current status of the DNA Research.
Funding
Here you will find a listing of current fundraisers, how to donate money,

and a running total of what we have collected.

Resources
In this section you will find a wide variety of information - where to find a cardiologist, HCM screening clinic listings, links to info on HCM, information about the project in different languages, and much more!!!
Contact
Here you can find contact information for the founding members of this group as well as points of contact in other countries.
__________________________________________________________
| | | |
| --- | --- | --- |
| Join the NFC HCM Discussion Group on Facebook | Please take this banner for use on your homepage | Join the NFC HCM Discussion Group on Yahoo! |
| | | |
| | | |
artwork by R. Leijen ~ 2006
click here to email the site administrator