Norwegian Forest Cat HCM DNA Research Project
Previous/Discontinued Studies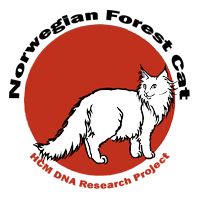 Updated July 5, 2012
JULY 5, 2012: PLEASE NOTE THAT THE BELOW INFORMATION IS TO BE USED FOR HISTORICAL REFERENCE ONLY.
Studies below are no longer active! For current studies, see here
The Process for Collecting Data for the Dr Meurs Study
Letters & Documents Pertaining to the DNA Research for the Forest Cat
Project Introduction Letter sent to Breeders around the world
Letter From Dr Meurs to Linda Stebner - YES, she & Dr Kittleson will work with us!
WSU Offers Funded Study of Feline Heart Disease **this study has been completed**
These same letters in other languages